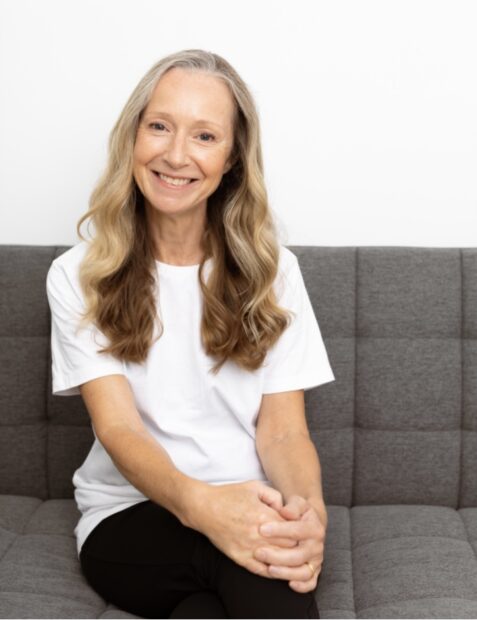 Meet Ipsum Skin Founder Janet Hayward
We've previously raved about our love for skincare brand IPSUM, especially their amazing Cleansing Oil Balm, lip balm and the body oil which have all become firm fixtures in our daily beauty routine, so naturally we love to interview founder of the brand Janet Hayward.
What's your beauty regime like?
My beauty regime is really uncomplicated and straightforward.  I always cleanse morning and night (double cleanse if I've been wearing spf or more make-up than usual).  I like to give my face a finger-tip massage as I cleanse and, after rinsing, I massage again with face oil which not only helps to boost circulation it also helps to amplify the benefits of the ingredients.
I exfoliate once a week and when I have time, I like to relax in the bath with a thick layer of our Cleansing Oil Balm, applied after cleansing, to treat my skin to a hydration mask.
I am quite minimalist in my use of make-up – tinted moisturiser, coral cream blush, sand-tinted cream eye shadow.  I love using an eyelash curler before applying mascara.  It makes such a difference!  And I've also collected quite a wardrobe of soft eyeliner pencils in different colours – wearing a coloured eyeliner makes me feel like I'm making more of an effort!  Lip Oil Balm is an essential.
What are your favourite skincare products?
The Cleansing Oil Balm!  If you have a good cleanser that leaves your skin feeling refreshed and clean but also hydrated and comfortable, it's the best feeling in the world!  Of course I also love good face oil that sinks into skin to deliver all the valuable nutrients where they are most needed.

The power of native plant oils
Luxurious, certified organic and supercharged with unique, native Australian botanical oils and extracts, Ipsum skin care is carefully formulated with highest quality and sustainably-sourced plant oils, esters and waxes.
Each ingredient is extracted only from plants grown and harvested in their native habitat to ensure the integrity of benefits for skin.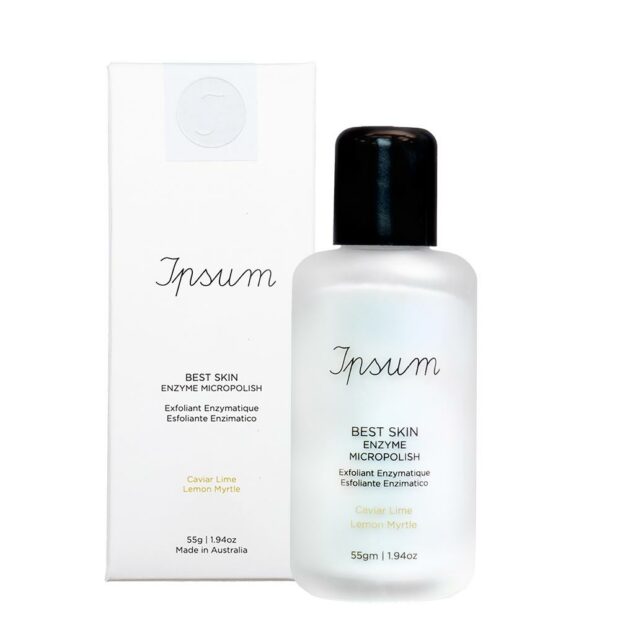 Tell us about your new product The Ipsum Best Skin Enzyme MicroPolish? Benefits and how you use it? 
Exfoliating once or twice a week is really important to sweep away any surface buildup of dead skin cells or even product – spf for example.  This not only encourages healthy skin cell regeneration, it also helps to maintain skin's healthy hydration levels and enables easier absorption of all the benefits of your skin care products.
Rather than a mechanical exfoliator, with tiny beads or grains that use an abrasive action to exfoliate, Ipsum Best Skin Enzyme MicroPolish is formulated with plant ingredients that are naturally rich in AHAs (alpha hydroxy acids) from Australian Caviar Lime that gently dissolve away any buildup without impacting the integrity of the skin. Caviar Lime is also rich in Vitamin C so it helps to brighten skin as it exfoliates. The formulation also contains BHAs (beta hydroxy acids) which, in combination with Australian Lemon Myrtle, deeply cleanse to rinse away impurities that can block pores and make them appear enlarged.  The Enzyme MicroPolish formulation is very gentle, yet thorough, and because it works with an enzymatic action rather than abrasive action, it can even be safely used if you have sensitive skin or inflammatory skin issues such as rosacea.
You can easily integrate Enzyme MicroPolish into your skin care regime – just a small amount of the powder can be mixed in the palm of your hand with a little water to form a thin paste, or you can mix it with a little Cleansing Oil Balm.  Gently massage with the finger-tips in small circular movements across your face, paying particular attention around the nose, chin and forehead – there is no need to rub as the enzymes will work their magic all by themselves.  Rinse away with warm water and then pat with a clean towel.
The result?  Smoother, brighter, super-clean and hydrated, healthy skin that feels comfortable, and definitely not dry!

"Best Body Treatment- Body Oils.. featuring a stellar blend of vitamin-enriched, ultra-nourishing oils.."
Do you have a skin care secret?
I think my skin always thrives when I eat fruits and vegetables when they are in season!  Nature really does provide food at the time we most need it – the vitamins and minerals found in fruits and vegetables will give our bodies the extra boost it needs to survive the season and this also applies to the health of our skin.  Figs, pomegranates, peaches, oranges and blueberries get a special mention…
Plus, no matter how late it is – or how tired you are – always cleanse your face before you go to bed and apply your favourite face oil or night cream.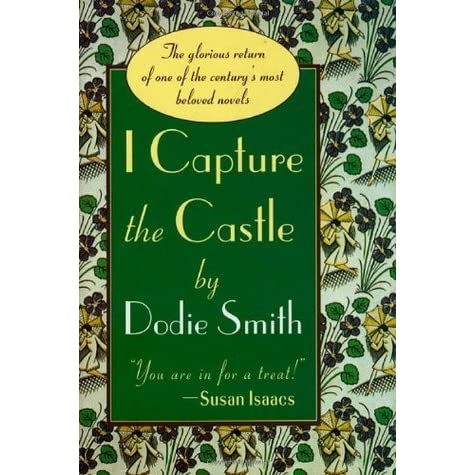 What's your day-to-day like?
I like to start the day early and walk my dog ( a 12 year old pug cross called Archie) before eating breakfast and…coffee!
I am not very accomplished in work/life balance…so I often work every day – even on weekends – but I thoroughly enjoy it!  On any day I can be researching new ingredients or talking over new product development with my formulator – or visiting my packaging company to discuss new label designs and check compliance details.  My best days are when I meet with a beauty journalist or my photographer; my not so best days are when I work with the accountant!    There are so many different steps and stages to creating a product!
We are fortunate in Australia that we can swim for most of the year so a nice escape from the desk can be a quick lunchtime swim at the beach.
With time on my hands, I love to?
Read, watch 1960s movies, listen to music, walk my dog, swim, practise yoga…and travel!  Even with time on my hands, I keep busy!
Favourite book, movie and style icon?
It's hard to choose just one book and one movie!  So can I have two favourites? – The Coral Thief by Rebecca Stott and I Capture the Castle by Dodie Smith
and for movies Bonjour Tristesse and The Talented Mr Ripley.   My favourite style icon is Jean Seberg (but I also love Kate Moss!)
Finally what's the best piece of advice you've been given?
If it feels right, do it.