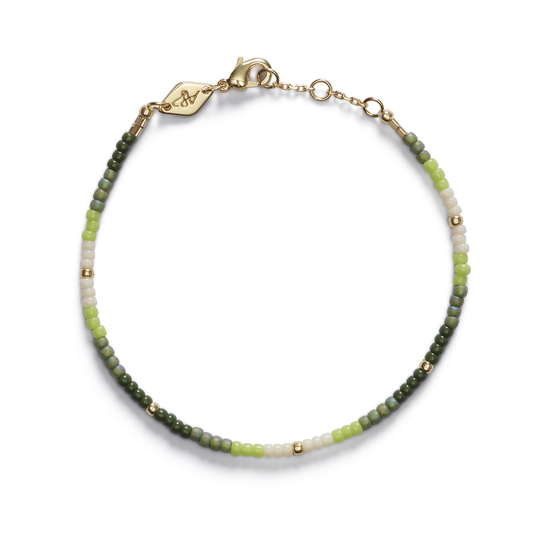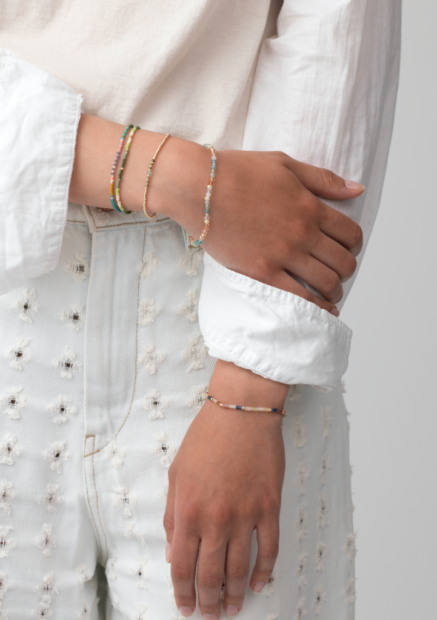 Previous slide of slider
Next slide of slider
Tie-Dye Bracelet Sea Green
The forgotten art of the tie-dye. Once a must for every 1970ies laid back hippie hanging out by the beach, guitar in hand – and thank God: Now it´s back on your wrist for the perfect "I made it by myself" look.
Details
Crafted in brass with 18-karat gold plating + e coating.
Detailed in glass beads.
Bracelet adjusts from 16 - 18 cm.
CARE INSTRUCTIONS
All the metal parts in the ANNI LU jewelry are Brass or Sterling Silver 925S.
The gold combinations are plated with a thick layer of 18Kt gold - but kindly note that with time the plating will be worn off. This is normal and not a reason for a claim.
We highly recommend to avoid lotion, hairspray and other cosmetics to be in contact with your jewelry.
Please do not wear your jewelry while sleeping and doing sports.
Please remember to avoid exposing your jewelry to water, salt, sun, chlorine and other chemicals - especially the designs with freshwater pearls.
Please store your jewelry in a dry room jewelry box, never in the bathroom.
ANNI LU jewelry bags are an ideal way to protect and store your jewelry when not wearing.
For Your Consideration
Previous slide of related products slider
Next slide of related products slider