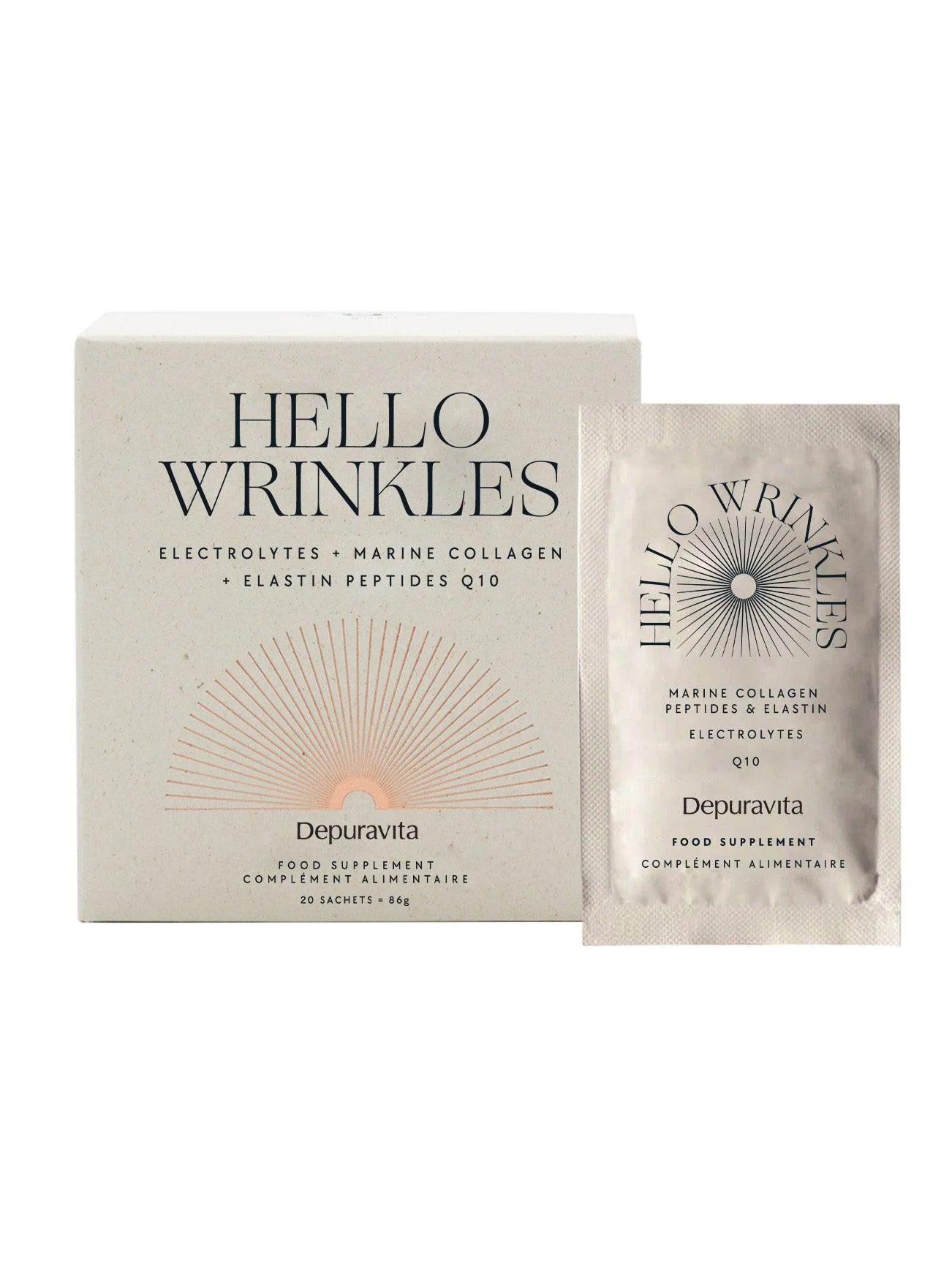 Hello Wrinkles
Hydrate, Balance & Protect your skin with the finest blend of ingredients
Rehydration – Regeneration – Rejuvenation
Containing 30 sachets
Hello Wrinkles embraces the aging process by relying on proven ingredients designed to improve your complexion by working deep beneath the epidermis. This simple soluble solution is packed with 100% marine-based, sustainably sourced collagen peptides formulated in the same ratio found in human skin (94% Type I hydrolyzed collagen and 6% elastin oligopeptides), a naturally derived substance that in clinical trials has shown the ability to increase skin elasticity and moisture by stimulating collagen metabolism. The deep penetrating peptides work to slow the formation of wrinkles to achieve skin that is radiant and more youthful in appearance.
The Hello Wrinkles formula is made even more effective thanks to the inclusion of Coenzyme Q10, an antioxidant produced naturally by the body that plays a key role in the maintenance and growth of cells. The product also includes electrolytes focused on addressing proper hydration that help strengthen and replenish skin. Together with the marine collagen and elastin peptides this perfect combination of ingredients offers a highly beneficial daily treatment to improve the overall texture and healthiness of skin. Hello Wrinkles provides the opportunity for men and women to age more gracefully while keeping their bodies fully hydrated.
Additionally, Hello Wrinkles contains a carefully crafted blend of five premium magnesium salts, By incorporating this comprehensive blend of magnesium salts, Hello Wrinkles ensures that you receive the full range of benefits associated with magnesium, promoting not only skin health but also overall wellness.
BENEFITS
HOW TO USE
INGREDIENTS