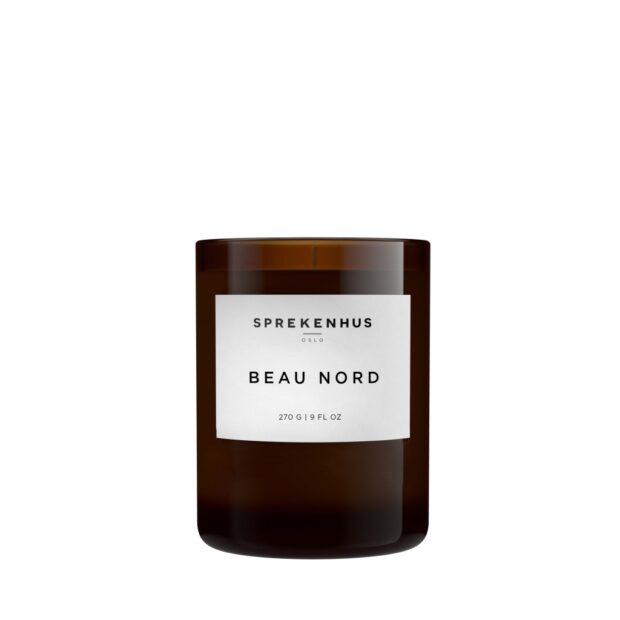 Beau Nord Candle
Crafted from natural wax and housed in a handmade glass vessel, the Beau Nord candle's design and rich scent fills any room with a wonderful fragrance.
Brings an aromatic scent to fill your room with a soothing and relaxing fragrance, shaped with a bouquet that is fresh, foresty with the intensity of orange, and the depth of dry amber.
DETAILS
BEAU NORD: TOP: BERGAMOT, CARDAMOM, CLOVE, GREEN MID: TEA, ROSE, DRY AMBER DRY: MUSK, INCENSE, CEDARWOOD, PATCHOULY
With a heart of powerful rose, the scent pulsates fresh and
light notes seasonal to the beautiful northern nature. Raised
with aromatic tea and dry Amber, Beau Nord is grounded
with rich, deep Cedarwood from the forest. The captivating
fragrance surprises the senses and evokes emotion. A hint
of fresh Cardamom and Orange is presented in a delicate
and soft layer, uniquely experienced in this private blend.
HOW TO USE
• The first time you light a scented candle let it burn for 2-3 hours so the surface becomes liquid. this will prevent an uneven surface. • Trim the wick regularly with the special wick trimmer to avoid it smoking or overheating. • Before extinguishing make sure wick is upright • Do not relight candle when there is less than 5mm of wax remains or metal wick base is visible.
• Do not move a burning candle. • Do not leave unattended. • Keep out of reach of children.
For Your Consideration
Previous slide of related products slider
Next slide of related products slider