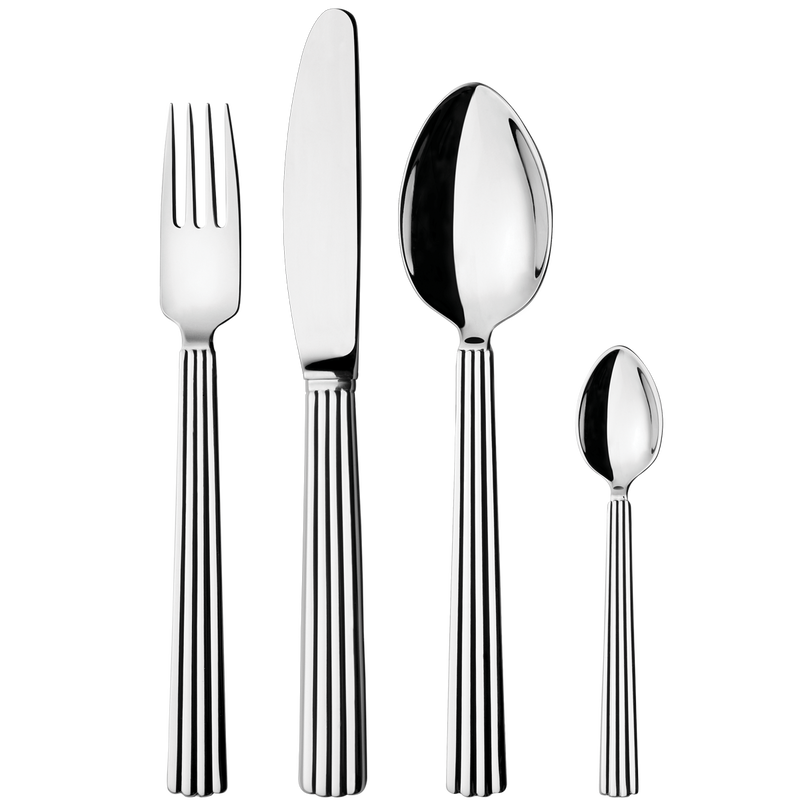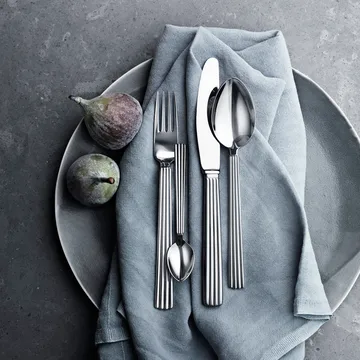 Previous slide of slider
Next slide of slider
BERNADOTTE cutlery set | 24 pcs
Bernadotte, designet i 1939 av Prins Sigvard Bernadotte.
Majestetisk eleganse og funksjon i ett. Bernadotte-serien tilføyer tradisjonsrikt raffinement.
Eske med 24 deler, 6 sett med kniv, gaffel, skje og teskje.
Kan vaskes i oppvaskmaskinen.
With the graphic design of their grooved handles giving a nod to Art Deco, this 24 piece set of stainless steel Bernadotte cutlery has a classic and timeless appeal. Sure to add a touch of class to any mealtime, the set makes a perfect wedding or housewarming gift.
Swedish prince Sigvard Bernadotte was one of Georg Jensen's first designers. Strongly influenced by the functionalist movement, Bernadotte's work is characterised by elegant details, minimalist lines and absolute practicality.
The set comprises 6 places of a dinner spoon (3609011, 197mm), a dinner fork (3609012, 192mm), a dinner knife (3609017, 218mm) and a teaspoon (3609033, 125mm). It is made from mirror-polished stainless steel and is suitable for a dishwasher.
PRODUCT DETAILS
CLEANING & MAINTENANCE