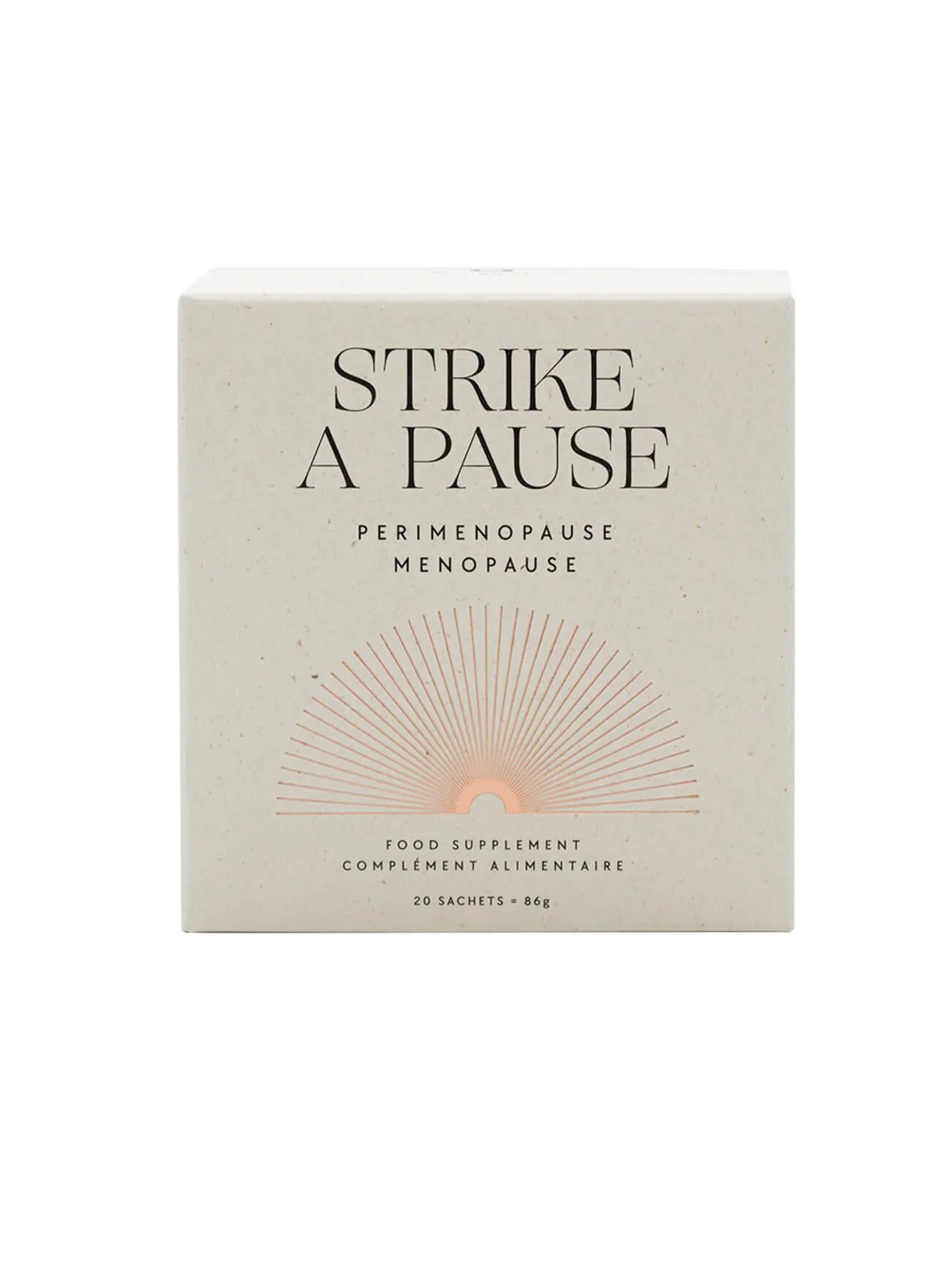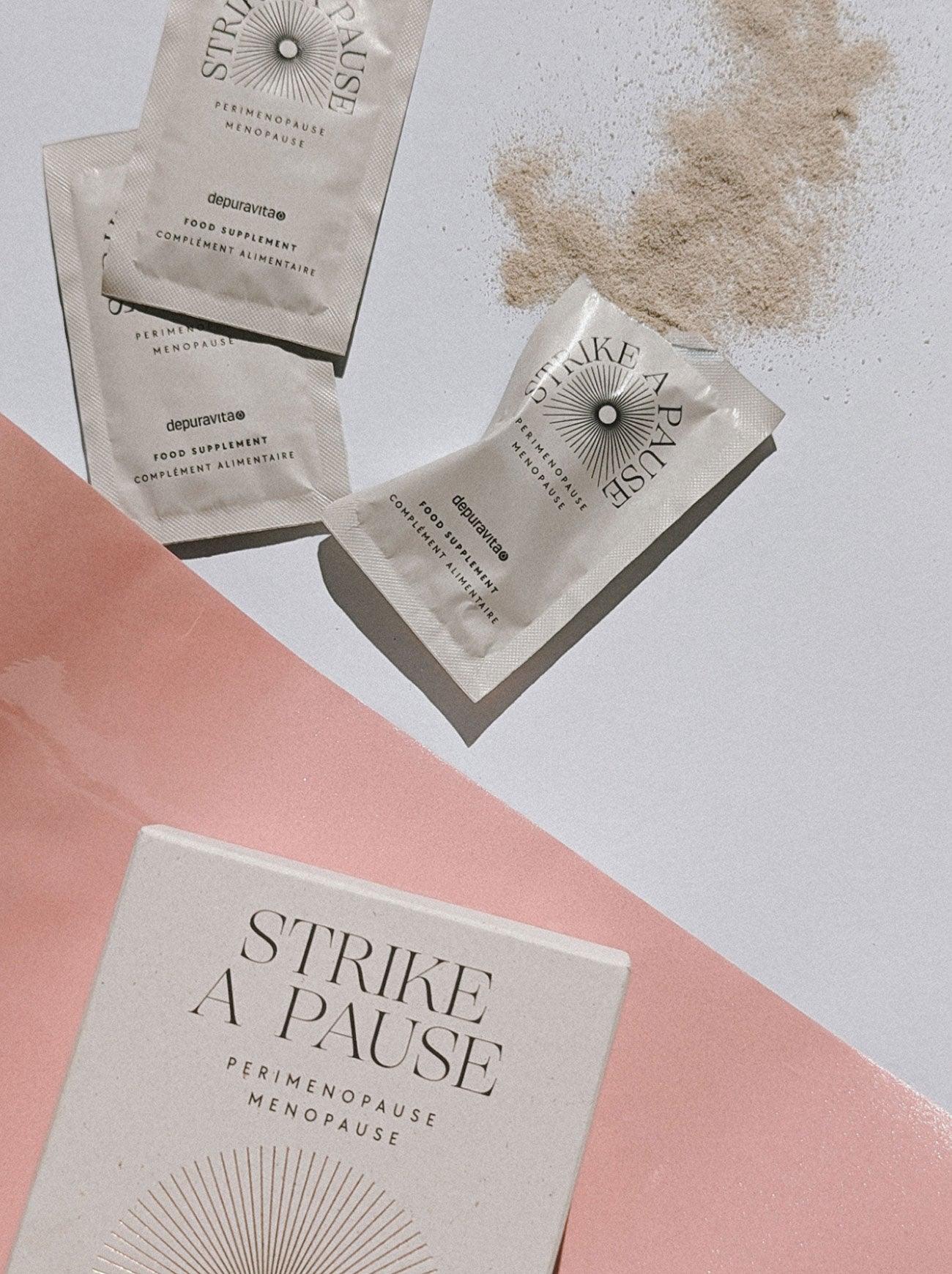 Previous slide of slider
Next slide of slider
Strike A Pause
Find Balance Amidst Hormonal Shifts
Embrace the transformative journey with serenity and balance
Strike a Pause is a revolutionary daily supplement that includes everything you need to help combat the symptoms of perimenopause and menopause.
The all-in-one sachet will support you during this hormonal shift while also providing vitamins essential to women over the age of 40 so you can feel your best.
Although there is no specific age when menopause will occur, most women typically experience this event in their mid-40s through mid-50s. Perimenopause, which is the transitional stage leading up to menopause, can manifest eight to 10 years earlier. This is when estrogen begins to decrease, leading to night sweats, hot flashes, mood swings, and low libido, to name a few. When symptoms of menopause and perimenopause hit, it can feel nearly impossible to age gracefully. That's why we worked to create a unique and holistic supplement that contains an effective combination of adaptogens, vitamins, and botanicals that is unlike anything on the market. These ingredients were thoughtfully blended to support your hormones and libido leading up to and during menopause.
Strike a Pause is formulated with an extremely beneficial mix of adaptogens including Schisandra, astragalus, cordyceps, ashwagandha, and Rhodiola. These herbs work together to improve your mood and regulate temperature changes.
Schisandra is a berry that means "five flavors" in Chinese and has been used in traditional Chinese medicine for thousands of years. In studies, it has been found to reduce hot flashes, night sweats, and heart palpitations in women experiencing menopause symptoms.
Astralagus root is an excellent immune supporter that has been used in Chinese medicine for centuries. It has been shown to soothe hot flashes, night sweats, and depression in menopausal women.
Cordyceps are medicinal mushrooms that can be very effective in combatting the effects of lowered estrogen levels. These powerful funguses stimulate the release of estrogen, boosting mood and libido.
Ashwagandha is also known as Indian ginseng. This herb has been used in Ayurvedic medicine for thousands of years and is effective in supporting blood sugar levels to keep the metabolism steady, reducing anxiety and depression, stabilizing the mood, and boosting libido.
Rhodiola is a flowering plant from the cold areas of Europe and Asia that has been found to help with many of the cognitive side effects of menopause, such as fatigue, anxiety, depression, waning memory, and intolerance to stress.
Superfood spotlight :
RED CLOVER Menopausal symptoms are caused by a shift in hormones – specifically, a reduction in estrogen. Red clover, an herb that grows wild throughout Europe and America, contains a plant-based chemical called isoflavone that produces estrogen-like effects on the body. In other words, bye-bye, hot flashes.
BORAGE OIL Borage oil is rich in gamma-linoleic acid, a form of omega-6 that helps the body fight off inflammation. In fact, this powerful little oil has the highest concentration of gamma-linoleic acid of any essential oil, making it effective at easing symptoms of hormonal imbalance that women experience during perimenopause, including hot flashes and night sweats.
VITAMINS D AND K Did you know that as estrogen decreases, a woman's body is less able to absorb and use critical vitamins? Our sachet includes Vitamins D and K, two essential nutrients for women over 40. Both of these vitamins play a key role in calcium absorption, helping to decrease bone loss, reduce the risk of osteoporosis, and strengthen teeth. Additionally, Vitamin D gives both your mood and immune system a boost.
BENEFITS
HOW TO USE
INGREDIENTS