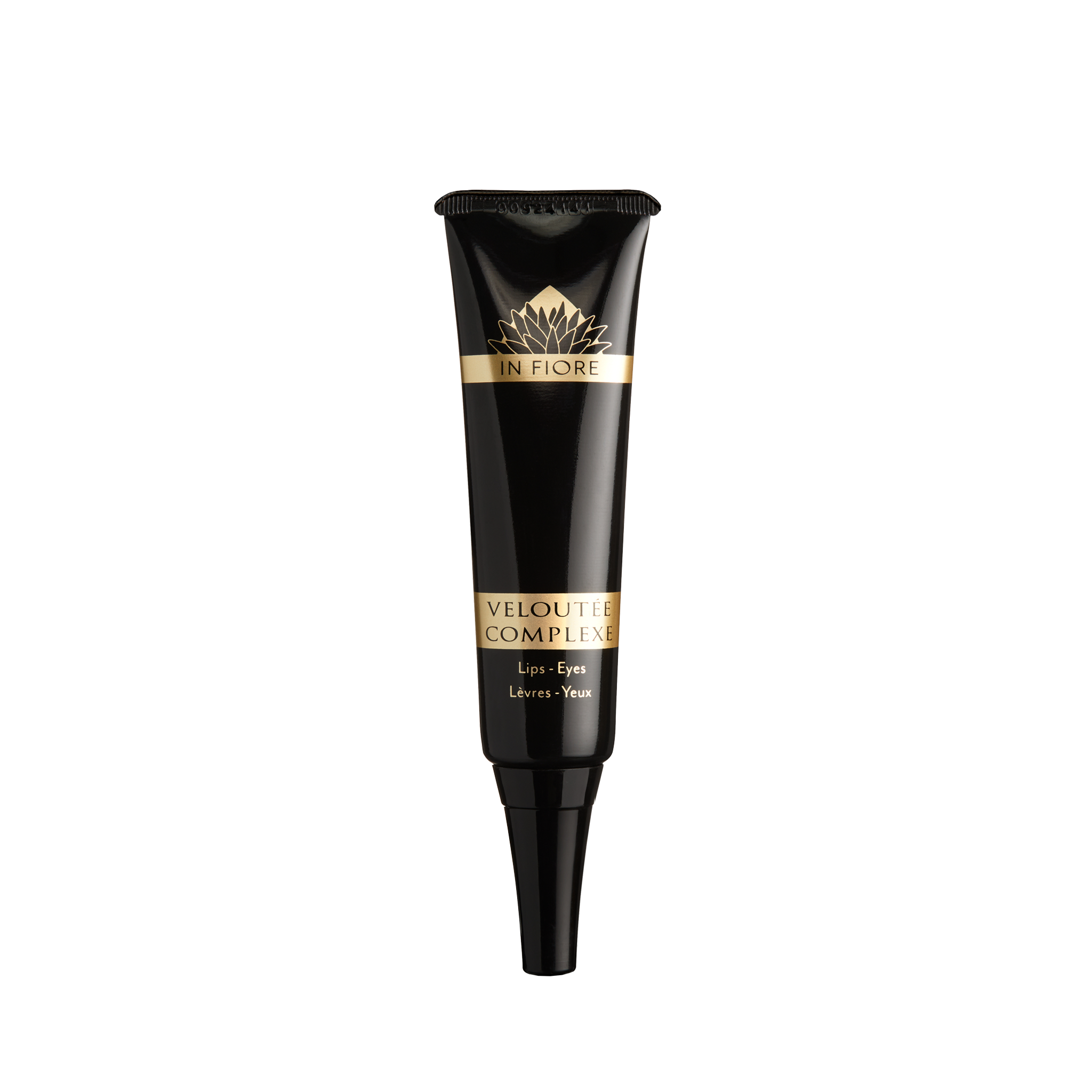 Veloutèe Lips & Eyes Complexe
Meet the new Veloutée, a collagen-boosting, antioxidant-packed treatment designed to heal, hydrate, and rejuvenate the lips.
Lips are the gateway to our bodies and gatekeepers of one of our most compelling qualities: our smiles. We've missed them. With their visible reemergence, lips are having a moment—and we're here for it. Meet Veloutée, a new and improved take on our best-loved lip balm. Here's what you need to know:
It's a treatment, not a gloss
No shine, no residue, no color. This innovative formula instantly penetrates, delivers a concentrated dose of healing, rejuvenating ingredients to hydrate lips from within, and acts as a primer for color. It also works on the skin around the lip line, nipping those pesky little lines in the bud.
Green tea is key
Green tea, one of Veloutée's key ingredients, is emerging as a major player in skincare. Its antioxidant power is 20 times higher than that of vitamin E, and it contains photoprotective properties (lips need sun protection, too!). Plus, its caffeine content promotes a visible tightening effect.
Portability, potency, preservation—perfected
As much as we loved the old compact, we channeled Fleur Vibrante Serum Cerate and tubify'd the new Veloutée. Now, it's lightweight, shelf stable, and easy to tote around—even though it contains 75% more product. We also titrated the formula, which allows us to control the potency of active ingredients and deliver consistent strength in every batch.
You can use it around the eyes
Veloutée is dermatologically and ophthalmologically tested for use around the eye area. Dab it on your orbital bone for rejuvenating, skin-toning benefits, and the gel-like texture will give your cheekbones a healthy, hydrated glow. We even prefer this to a gel eye mask when flying.
ACTIVES:
DPHP Collagen Amino Acids: An oil-soluble version of hydroxyproline, the primary amino acid in collagen. Making it oil- soluble improves penetration into skin and lips and works by signaling the uppermost layers of the skin to repair its supportive elements, leading to fewer visible lines and wrinkles.
Antioxidant Lipids: Nourishing and restructuring. Oils replenish lipids for skin barrier protection, reinforce cell cohesion, maintain the health of cell membranes, and strengthen skin's natural defenses.
Polyphenols in the form of EGCG: EGCG is generally 20 times more powerful than vitamin E for neutralizing free radicals since it is effectively absorbed through the skin and acts as an astringent to protect the skin. Polyphenols exhibit a photoprotective effect, reduce erythema formation, and effectively stimulate aged keratinocytes to generate biological energy.
Theanine, Caffein: Theanine, an amino acid building block for protein, and natural caffeine relax and rejuvenate skin. Caffeine can cause the skin to look fresher, livelier, and younger by tightening up any slackness and removing small wrinkles, giving skin a more tranquil and brisker appeal.
Microcirculatory actives in the form of ginsenosides, caffeic acid, carnosic acid, and limonene: Delivers numerous antioxidant compounds, boosts skin hydration, works with the skin to bolster its natural firmness and revitalizes skin by increasing oxygen in the tissues.
PSYCHOSPIRITUAL: THE MIND & SPIRIT INTEGRATION
Veloutée increases one's endurance to deal with life's challenges and raises consciousness by opening up the third eye,
HIGH PERFORMANCE, ECO-FORMULATION
99.13% natural origin content according to ISO 16128 standard
Titrated in Camelia Sinensis (Green) Tea
Preservative-free
Protected by plant-origin antioxidant (rosemary)
No petroleum derivatives
No synthetic fragrances
Made in France
BENEFITS
HOW TO USE
INGREDIENTS